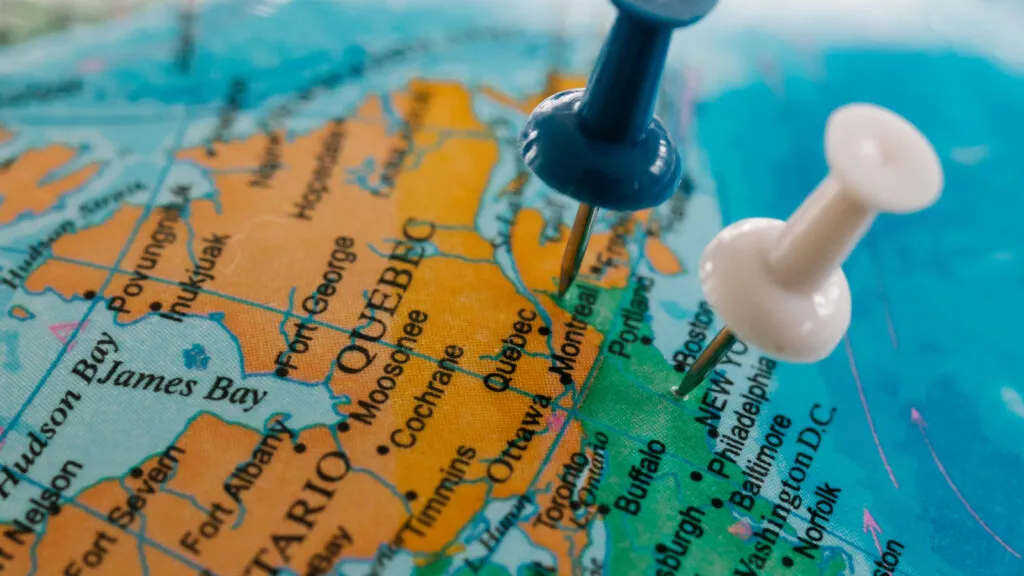 KEY TAKEAWAYS
An efficient multi-stop delivery route considers factors such as traffic patterns, road conditions and delivery priorities so you can complete your stops as quickly as possible.
Manual route planning becomes more difficult to perform as the size of a route increases, due to the variables involved.
A multi-stop route planner such as RoadWarrior uses data-based algorithms to calculate the fastest route for multiple deliveries.
As a delivery professional, you probably spend most of your time on the road. You can make your shift more efficient (and less stressful) by planning your route before getting behind the wheel.
A multi-stop route planner saves time and fuel, helping to avoid construction, traffic jams and backtracking, so you reach your destinations as quickly as possible. Read on for tips on optimizing a multi-stop route and examples of apps that make the job easier.
Get home early with RoadWarrior.
Enter your stops, optimize your routes, manage your team – quickly and efficiently.
Try RoadWarrior free for 7 days
Try free for 7 days
Why It's Important to Plot a Route for Multi-stop Deliveries
When you have multiple stops on your delivery route, the order in which you get those packages to customers can affect how long the job takes.
Optimizing your route isn't just about reducing the annoyance of sitting in traffic, however. Whether you're paid by the delivery or want to avoid working overtime, finding the most efficient route is about boosting your productivity and reducing costs to help your bottom line.
Route planning is the process of evaluating all of the destinations on a delivery route and figuring out which sequence of stops saves the greatest amount of time. Where do you begin if your deliveries are spread out over a large territory? Which stop should you hit first when orders are clustered together? There are many possibilities, but the most strategic one minimizes backtracking and the time you spend on the road.
Factors Affecting a Multi-stop Delivery Route
Many variables come into play when determining the most efficient sequence for stops. Here are some things to think about when mapping a route with multiple addresses:
Traffic patterns at the time of day you expect to be in each area.
Construction delays or detours.
One-way streets, school zones and high pedestrian streets that affect speed limits.
Routes that you want to avoid, such as tolls.
Weather conditions that can slow you down.
The amount of time you'll spend unloading. Dropping a package on a doorstep is faster than finding parking in a crowded area and taking an elevator up 30 floors.
Drop stops, which require you to pick up orders before delivering them.
Customer requests, such as priority delivery windows and business availability.
Road restrictions based on the vehicle you're driving.
It's even more difficult to balance these variables when managing teams of drivers, as you also have to consider the vehicle fleet and how many packages a driver can handle.
Using Technology to Find the Best Route
When you manually plot a route on a map, group the destinations by neighborhood. Try to build a logical itinerary with the least amount of doubling back. This can be challenging if your stops are spread out in all directions with no clear linear path.
Technology can simplify this task. Depending on the size of your route, you can use:
Online navigation tools. Many drivers are familiar with navigation tools such as Google Maps and MapQuest. You can use these tools to check distances and driving times, but these platforms have limitations when you begin adding additional stops.
Route mappers. You can download route optimization software as an app on your smartphone and/or access it on a website. These tools are powered by complex algorithms that use data about traffic, road systems and other information, running different combinations of routes until zeroing in on the fastest one. The process typically takes seconds, and you can find free and paid versions of a variety of route planning and delivery management apps.
Benefits of Using a Route Mapper
When your livelihood depends on getting from one destination to another quickly, you don't want to waste time with a poorly planned route and fall behind in your deliveries. Multi-stop route planner apps are designed specifically for delivery professionals to help improve their time management.
Consider using an automated route mapper if you spend hours planning an itinerary or are struggling to keep up with deliveries when you're on the road.
This type of tool can:
Provide an optimized route within seconds, saving planning and driving time.
Boost customer satisfaction because deliveries are made promptly.
Save on fuel costs and vehicle wear and tear because you're in the car less.
Reduce stress by making it easier to stay on schedule.
Scale easily if your business grows.
Features of a Multi-stop Route Planner App
Multi-stop route planner apps are essential tools for delivery drivers, performing the tedious work of manual route planning with the tap of a button. There are many apps to choose from with varying levels of sophistication. Individual drivers, for example, won't need as many features as a company with teams of drivers to manage.
When choosing an app, consider whether you can:
Easily upload destinations
Set a departure time for accurate traffic predictions
Customize driving preferences and routes to avoid
Establish delivery windows according to customer availability
Save routes and access delivery history
Use your preferred navigation tool for turn-by-turn directions
You may need to upgrade to a paid version of an app to access the features you need or accommodate the number of destinations on your route.
Some apps include delivery management features, such as proof of delivery (signatures or photos), customer notifications and driver tracking.
How Do I Map My Route With MapQuest?
MapQuest offers a free route optimizer tool on its website, which is a convenient option if you only require basic features. It can generate a route with up to 26 stops but isn't currently available as a smartphone app.
To use MapQuest to optimize your route:
Visit MapQuest's route planner.
Enter your first destination into the search box and click the address when it appears.
Select "add another stop" and continue until you've input all locations. You can also copy and paste the addresses (one per line) or import them via a spreadsheet.
Enable any preferences for your route, such as a round-trip or avoiding tolls.
Manually order your destinations or allow MapQuest to reorder them.
Click "view route directions" to optimize your route.
Print the route or email it to yourself. You can also share it with the MapQuest app on your iPhone or Android smartphone.
Using RoadWarrior as a Multi-Stop Map App
RoadWarrior is a route planner app that you can download onto an Android or iPhone, with free and paid versions available. Its algorithm considers hundreds of variables when determining the best multi-stop routes for delivery professionals.
The free version of RoadWarrior may be enough for your needs if your route includes eight or fewer stops. You can access up to 50 optimized stops per day, however, so you can create additional routes if you have several smaller batches of deliveries to make.
Drivers needing to make up to 120 stops per day can upgrade to a paid plan. For $10 per month, RoadWarrior Pro enables you to optimize up to 120 stops per route, with up to 500 stops per day. A RoadWarrior Flex plan is available for teams of drivers.
Let's take a closer look at how to use RoadWarrior so you can get a sense of how this multi-stop map app can streamline your deliveries and make your shift more efficient.
1. Create Your RoadWarrior Route
Once you download and open the RoadWarrior app, you'll see the Planner Map, ready to create your route. Each new route is automatically named by date, but you can change this — for example, to distinguish a route if you provide delivery services to different companies.
Create a route by entering the addresses of each destination. You can do this in several ways:
Address search: Type an address into the search box. The app will begin pulling addresses from its database for you to match.
Contacts: Select addresses from personal contacts on your smartphone. You'll have to give the app permission.
Map: Zoom in on the map and drop a pin if you can't find the specific address.
Spreadsheet: Upload bulk addresses from a spreadsheet. FedEx and OnTrac drivers can upload their manifests using a Flex plan.
You can also specify destinations that are drop stops, which means you need to pick something up before delivering it. The app ensures that the pickup location is scheduled into the route before the drop-off destination.
2. Customize Your Route Preferences
You can provide additional information to tailor your route. Here are some of the settings you can adjust to ensure you get the best route based on your preferences and customer needs:
Departure time. Traffic patterns change depending on the time of day.
Visit time. If you anticipate longer unloading times at certain stops, adjust the visit time for a more accurate route.
Round trip. Your route will vary depending on whether it's one-way or a round trip. Sometimes it's more efficient to start with deliveries further away and return to closer stops at the end of a route.
Driving preferences. Specify if you want to avoid tolls, ferries or highways.
Fastest or shortest route. The fastest route takes the least amount of time, but the shortest route is the one with the least distance traveled.
Mode of travel. Most people use RoadWarrior for driving, but you can also request routes if you are biking or walking.
Delivery windows. Some customers require deliveries to be made at certain times of the day.
3. Optimize and Navigate Your Route
Once you've input the destinations and set your preferences, you're ready to put RoadWarrior to work. The app uses a powerful algorithm to determine the best sequence of stops, taking into account traffic, speed limits, road conditions and any customizations you've made.
The app generates the fastest (or shortest) route, displaying numbered stops on a map. You can also see a summary of the total travel time and distance. When you're ready to start your deliveries, tap on the first stop and choose "Navigate." RoadWarrior defaults to Apple Maps on an iPhone and Google Maps on an Android to provide turn-by-turn directions to get you to your destination.
Once you make a delivery, mark the task as complete by checking in to the stop on the app. When you're ready to continue driving, tap on the next stop to relaunch the navigation tool. You can also set the app to automatically open the next stop once you've checked in.
4. Manage Your Delivery Business
RoadWarrior keeps a history of deliveries, so you can also use the app to record your activities. Save itineraries that you navigate often as a template for future routes, so you don't have to input the addresses again. You can also access your history logs to see when a delivery was made or use the reporting tool to export check-in history.
Your account is synced across devices, so you can switch between a laptop, tablet and smartphone using the RoadWarrior Pro or Flex plan. Data is also backed up on multiple cloud servers for reliability. Rest assured that RoadWarrior has strict personal data and privacy policies when handling user information, and doesn't ever share or sell data to third parties.
Finding the Best Multi-stop Route Planner
Demand for home deliveries has never been higher, and consumers expect prompt service. Route planning apps help you tackle your workload quickly and efficiently.
While you explored how platforms such as MapQuest and RoadWarrior work, there are alternatives on the market. Now that you understand the features available, you can assess whether either of these route planners meet your delivery needs.
Check out reviews of different route mappers, and take advantage of free versions to get a sense of the interface and ease of use. You may find that a basic app serves your needs or decide to upgrade to a paid subscription for more functionality.