Crush your route and get home early
Drive for work? Don't waste time trying to plan the quickest route or sitting in traffic. Put up to 200 stops in the RoadWarrior app and get your fastest route in seconds.
Try RoadWarrior for free for 7 days.
Try free for 7 days
Join thousands of happy RoadWarriors and get home early
Trying RoadWarrior is easy
You'll have your fastest route in less than 5 minutes.
No commitment.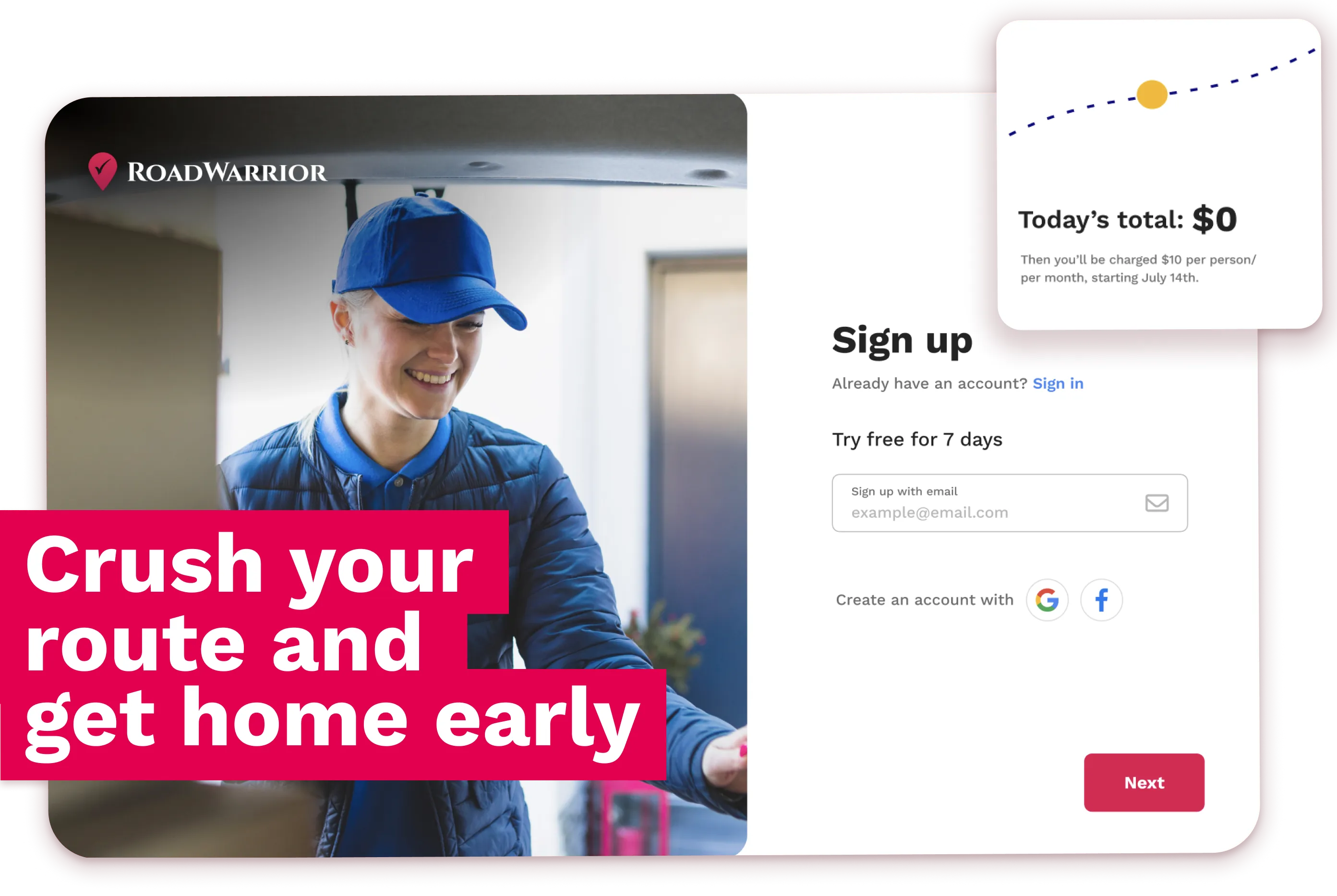 1
Sign up online
Create your account online in a few quick steps to get started.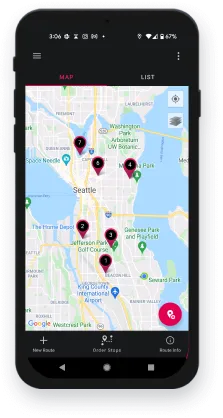 2
Enter your stops
Choose up to 200 stops on the map or upload a spreadsheet.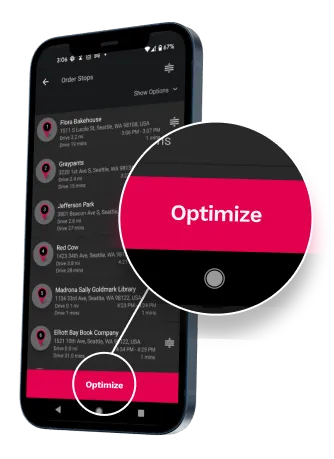 3
Tap Optimize
Boom! RoadWarrior gives you the fastest route, and you get home early.
Get started for free
Keeps you on the quickest route
RoadWarrior accounts for hundreds of variables when optimizing your route, including traffic, drop-off priorities, school zones, tolls, one way trips, and more.
Availability windows to fit your schedule
Add availability time windows and priority levels to make sure you stop by during open or delivery hours.
Adjust on the fly if plans change
Drag and drop your stops to adjust your route in seconds. RoadWarrior gives you the flexibility to customize your route, just the way you want.
RoadWarrior is an incredible value. I thank you, my car thanks you, my wallet thanks you, and my boss will be thank you soon after seeing the increase in productivity!
Thomas
,
Sales Representative
Really helps plan routes with my job. Even when I think I have the best route set up, I'll throw the addresses into Road Warrior and Boom! Knocks an hour and a half off my travel time. Highly recommend it!
I tried several different apps with no success until I found RoadWarrior. It does everything I need and more. This app makes my routes way more efficient, and helps me make more money!
Frankie
,
Cable TV Collector
Best pricing around
No commitment.
Turn on and off as you need it.
RoadWarrior
Put up to 200 stops into the app and optimize your route in seconds.
Get up to 500 optimized stops and 500 searches daily for you and each driver.
Included features
Best in-class routing engine
Routing with traffic, schedules, availability
Data synced and backed up to servers
Upload and reporting
Android and iOS app
Dispatcher web app
Licensed for multiple users
Assign routes to drivers
Track and monitor route progress
Everything you need to crush your route.
Enter your stops and optimize your routes – quickly and efficiently.
Try RoadWarrior free for 7 days
Try free for 7 days