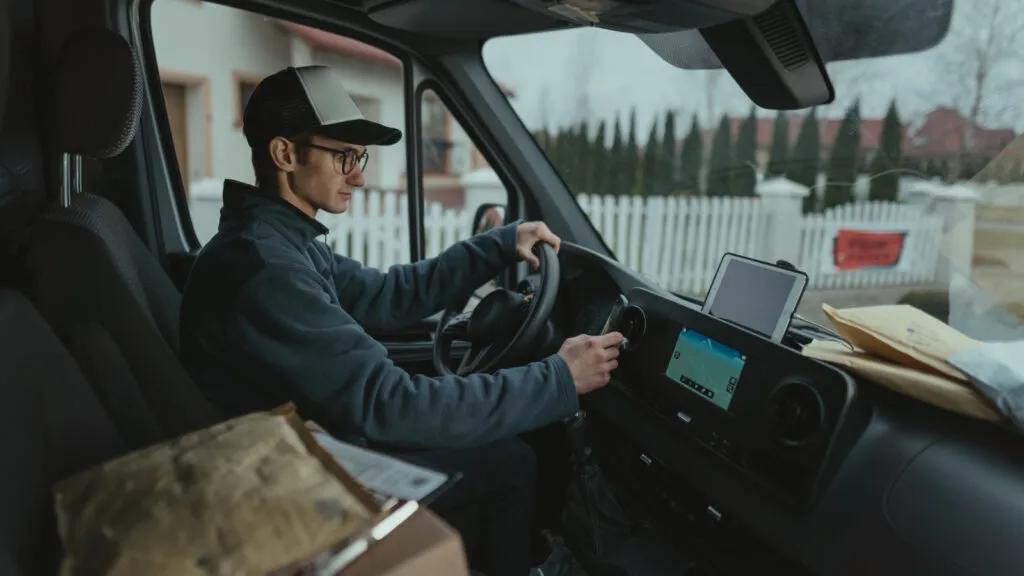 Get home early with RoadWarrior.
Enter your stops, optimize your routes, manage your team – quickly and efficiently.
Try RoadWarrior free for 7 days
Try free for 7 days
With the right delivery driver apps, you can complete your multi-stop routes quickly and efficiently.
Use an app such as RoadWarrior to determine the order you should tackle your stops to save you valuable time.
Other apps for drivers help with navigation, save you money on gas and alert you to upcoming road conditions.
Whether you're delivering packages, meals or groceries to your customers, you need to cover your route quickly and effectively. Unnecessary driving adds miles to your odometer and wastes fuel, while time spent looking for destinations and pit stops adds time to your route. Make sure you're managing your time on the road productively with a little advanced planning and a few handy delivery driver apps.
A Route Planning Courier App Is Essential
Your biggest challenge as a delivery driver is to get to each destination on time and in the most efficient way possible. That's where multi-stop route planning comes into play. Whether you have eight deliveries a day or 80 of them, you can shave valuable time off your route by tackling your deliveries in the right order.
Savvy delivery professionals schedule their stops in advance and consider a wide range of variables. The fastest route isn't always the most direct because of speed limits, congestion and construction. Your customers also have requirements, adding complexity to your itinerary as you strive to meet specific delivery windows.
To complete your route with the least amount of hassle, use a driver delivery app like RoadWarrior to determine the fastest route possible based on the destinations and time of day. Then, use some of the other apps highlighted below to create an environment in which you can perform your job comfortably and successfully.
8 Apps for Drivers To Improve Efficiency and Performance
Many factors impact productivity and bottom line as a delivery driver:
Ineffective route planning
Difficulty navigating through unfamiliar areas
Traffic delays and construction
Time spent finding restroom facilities, gas stations and other services while you're on the go
Fuel costs
Weather conditions and driver safety
Paperwork for vehicle-related tax deductions
You can't always control external factors that crop up on your route, but you can plan for as many variables as possible. Fortunately, technology puts the right tools at your fingertips.
Here are some apps you can download onto your smartphone to save both time and stress when embarking on another demanding route.
1. RoadWarrior
What this delivery driver app is for: Determining the fastest multi-stop route for your deliveries.
Why you need it: The less time you spend idling on a congested road or backtracking between destinations, the faster your deliveries are completed. RoadWarrior helps smooth the way by plotting your delivery stops on a map and comparing all possible route combinations until it finds the fastest one.
High-powered algorithms work through variables such as departure times, round trips, traffic patterns, speed limits and construction zones to generate an optimized route.
You can customize the route, specifying delivery windows or indicating a pickup that must be made before a drop-off.
RoadWarrior pairs with navigation tools such as Apple Maps and Google Maps to guide you to your destination.
Pricing:
Free version: Maximum of 8 stops per route; 50 optimized stops per day
RoadWarrior Pro ($10/month): Maximum of 120 stops per route; 500 optimized stops per day
RoadWarrior Flex ($10/month plus $10/month per additional driver): Designed for teams of drivers
Download RoadWarrior on iPhone or Android.
2. GasBuddy
What this delivery driver app is for: Finding the best prices for gas and diesel in your area.
Why you need it: Gas is one of the biggest expenses. More than 90 million people use GasBuddy to pay less at the pumps.
GasBuddy provides real-time gas prices for more than 150,000 gas stations in North America.
You can filter nearby gas stations by fuel type and price and amenities such as air pumps or bathrooms.
Log your gas purchases in the app to track your expenses and export the data when it's time to do your taxes.
Sign up for the Pay With GasBuddy fuel card and pay at the pump for additional savings.
Pricing:
Free
The Pay With GasBuddy fuel card is free for savings of up to 25 cents per gallon.
Pay With GasBuddy Plus is $7.99 for additional savings.
Pay With GasBuddy Premium is $9.99 per month for roadside assistance.
Download GasBuddy on iPhone or Android.
3. Drivvo
What this delivery driver app is for: Managing information about your vehicle, such as fuel costs, maintenance history and registration.
Why you need it: Most drivers deduct costs related to their vehicle as a business expense, so it's important to keep paperwork organized. Your car should also be regularly serviced to keep it running smoothly.
Drivvo enables you to log information to monitor vehicle expenses and performance.
Input expenses such as fuel, tolls, parking, car payments, fines and registration.
Document the car's maintenance history, including oil changes and filter replacements.
Schedule alerts for car payments, registration due dates and upcoming maintenance.
Save money by viewing gas prices in the area.
Gain insight into your car's performance with statistics such as fuel efficiency, distances traveled and average daily expenses.
Generate reports and view them in graph form.
Pricing:
Free for the basic version.
$5.99/year for features such as exporting reports and tracking driver income.
Download Drivvo on iPhone or Android.
4. MapQuest
What this delivery driver app is for: Getting turn-by-turn directions to an address and locating nearby services and businesses.
Why you need it: As a delivery driver, you need to get to your destinations in a timely manner. Whether you're headed to an unfamiliar area or hoping to avoid traffic delays, MapQuest provides detailed instructions to get you there with ease.
Search for the best route between two addresses and follow turn-by-turn directions to arrive at your destination.
Voice navigation saves you from reading a map.
Search for and get directions to businesses such as coffee shops, restaurants and gas stations to save time while on your route.
Set the app to compare your speed to current speed limits.
Satellite imagery and live traffic camera views are available.
MapQuest's RoutePlanner feature can optimize a route of up to 26 stops but is only available in a browser and not a mobile app.
Pricing:
Download MapQuest on iPhone or Android.
5. Flush
What this delivery driver app is for: Locating public restrooms while traveling.
Why you need it: It's not always easy to find a clean, accessible bathroom when you're on the road, and searching for restroom facilities can take valuable time away from your route.
Flush is a free app with a simple, easy-to-use interface.
You can search a database of 200,000 public restrooms around the world to find the ones near you.
Get directions to the nearest public toilet with the tap of a button, or search for a location to see a list or map view of nearby public restrooms if you prefer to select one.
Choose the one you wish and get directions from Google Maps.
Listings include user ratings, information about accessibility and whether a key is required.
Information is available offline, so you can use the app without Wi-Fi or a cellular connection.
Pricing:
Download Flush on iPhone or Android.
6. Drivewyze
What this delivery driver app is for: Receiving alerts of potential road hazards and delays such as line-ups at weigh stations.
Why you need it: Unexpected road conditions can cause delivery delays as well as safety issues. Hit the road with as much information as possible so you can anticipate and respond to driving challenges.
Drivewyze notifies you when you're approaching potential safety hazards such as low bridge clearances or curves and intersections with significant rollover history. It also reminds you to watch your speed on roads where speeding violations happen frequently.
Learn in advance about real-time congestion and slowdowns, and line-ups at weigh stations.
The app's PreClear service helps you save time and money by potentially bypassing 830 fixed weigh stations and mobile sites. The app communicates credentials such as license, ISS score, vehicle identification number and USDOT number and provides instruction as to whether you may bypass without stopping.
Pricing:
Free for safety notifications and weigh station alerts
$17.99/month for PreClear service
Download Drivewyze on iPhone or Android.
7. MyRadar
What this delivery driver app is for: Monitoring weather conditions so you can be prepared for conditions that impact your route.
Why you need it: When you're focused on meeting delivery deadlines, you don't always have time to monitor weather conditions that can create slick or icy roads.
MyRadar provides on-the-go weather snapshots for your location including detailed weather forecasts and extreme weather alerts.
This popular app features live animated radar that you can zoom in and pan.
Know in advance when you'll have to navigate through rain with hour by hour precipitation forecasts. You'll receive alerts about when rain is expected to begin, and the expected intensity and duration.
Weather and environmental alerts about tornados, hurricanes and severe weather are also available.
Pricing:
Free for basic radar maps and weather alerts
Upgrade for hurricane tracking, information from individual radar stations, and compatibility with WearOS devices. Pricing varies.
Download MyRadar on iPhone or Android.
8. iExit
What this delivery driver app is for: Alerting you to businesses and services located at exits along the Interstate.
Why you need it: When your route takes you along the Interstate, you don't always know what businesses and amenities are at each exit. You can spend valuable time driving around to see which restaurants are available, for example, and backtracking when they're farther from the highway than expected. You might also settle for a business and then see your preferred one a few exits later.
iExit tells you what restaurants, gas stations, hotels and amenities are available at upcoming exits based on your location.
You can search the next 100 exits to more effectively plan your itinerary.
The app includes gas station prices so you can find the cheapest fuel by exit.
Restaurant listings are integrated with Yelp reviews.
Travel coupons and hotel deals are also available.
Pricing: Free
Download iExit on iPhone or Android.
Bonus App for Drivers to Consider: FleetSafer
This app is only available for enterprises, but because distracted driving is a significant safety issue, we considered this an important bonus on our list.
FleetSafer
What this delivery driver app is for: Helping drivers to stay focused and distraction-free on the road.
Why you need it: Smartphones and mobile devices divert attention from the road, increasing the risk of vehicle accidents and crashes. Even if you aren't actively using your device, a sudden incoming text or phone call is distracting.
FleetSafer is an enterprise-level solution to help companies ensure their drivers follow safe driving policies.
A driver's smartphone is automatically placed in safe mode when a vehicle is in motion. The app suppresses notifications, calls, texts and access to the keyboard and screen. Emergency calls are permitted.
The device is unlocked when the app detects that the engine is off.
Pricing:
As this app is not designed for consumers, contact the FleetSafer sales team for more information.
Learn more about FleetSafer.
Improve Your Workday With the Best Delivery Driver Apps
Life as a delivery professional can be hectic, but you can implement strategies to keep you organized and efficient. Download some of these delivery apps for drivers and keep a digital toolkit at your fingertips.
Use an app like RoadWarrior to optimize your multi-stop route so that you can complete your deliveries as quickly and efficiently as possible.
Reach for apps like MapQuest, Flush and iExit to save time locating services such as restrooms, restaurants and gas stations.
Reduce fuel costs with GasBuddy.
Manage your car expenses and maintenance appointments with Drivvo.
Respond safely to road conditions using Drivewyze, MyRadar and FleetSafer.