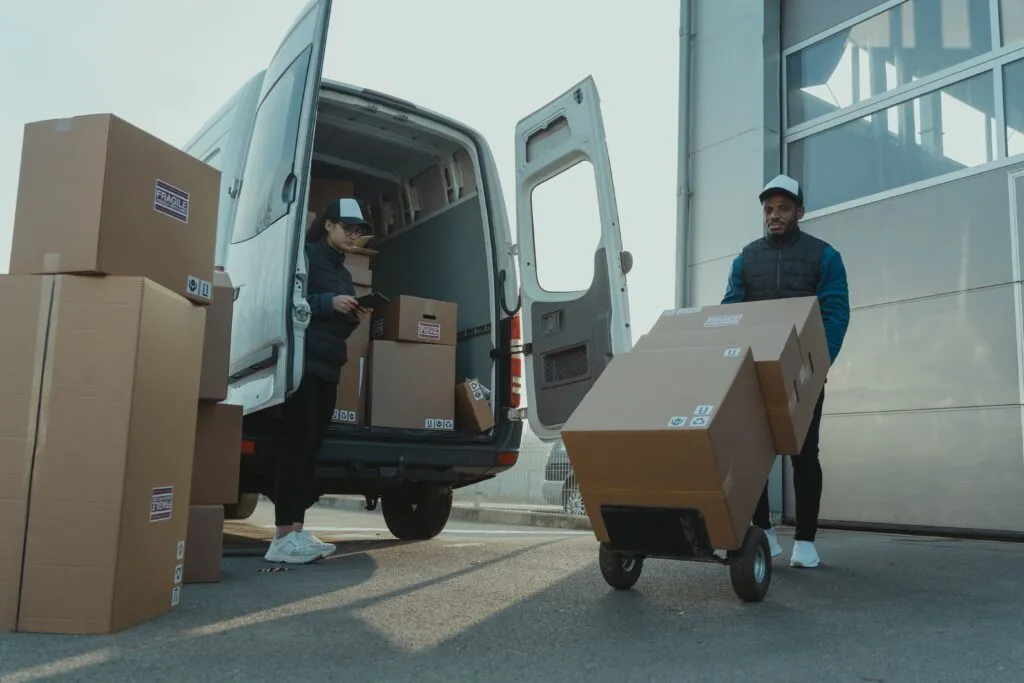 Get home early with RoadWarrior.
Enter your stops, optimize your routes, manage your team – quickly and efficiently.
Try RoadWarrior free for 7 days
Try free for 7 days
Have you ever faced the daunting task of shipping a large package, only to be met with exorbitant shipping costs and a confusing array of options? Finding the cheapest way to ship large packages is crucial for businesses and individuals alike, but navigating the world of freight shipping can be a challenge. Fear not, for we have compiled a comprehensive guide to help you understand the ins and outs of shipping large packages in 2023, from comparing top carriers to exploring cost-saving strategies and best practices. So buckle up and let's embark on this journey together!
Key Takeaways
Freight shipping offers cost-efficiency, adaptability and specialized services for large package delivery.
Factors such as dimensional weight, mass, destination and extra services affect the cost of shipping large packages.
Leverage freight brokers & route planning tools to streamline processes & secure cost effective delivery.
Understanding Freight Shipping
Freight shipping involves transporting large quantities of goods via land, air, or sea. This is facilitated by freight shipping companies both domestically and internationally. This service is well-suited for large packages with the capacity to transport shipments over long distances across borders. Freight shipments typically have a minimum requirement of 150 pounds or dimensions of 30x30x30 inches, making them the go-to choice for large and heavy packages.
Wondering how to select the appropriate freight shipping service? We'll delve into the different types and their perks.
Types of Freight Shipping Services
There are three primary freight shipping methods available for shipping packages.
Less-than-truckload (LTL) shipping: a cost-effective solution for smaller shipments, similar to priority mail express for smaller packages.
Full truckload (FTL) shipping: designed for large shipments that can occupy an entire container, offering fewer restrictions on size and weight.
Expedited shipping: a faster delivery option for time-sensitive shipments.
There's also a partial truckload, which falls between LTL and FTL, typically consisting of 5,000 to 40,000 pounds of freight and 6 to 12 pallets. These shipments do not require freight class and are serviced by one truck throughout transit, resulting in a faster delivery.
For those requiring prompt delivery and international shipments, expedited shipping is the most costly shipping method, incorporating both land and air freight. Choosing the right freight shipping service depends on various factors, such as your package size, weight, and the urgency of its delivery. To save on costs, consider using the most economical shipping method when speed is not a priority.
Having examined the types of freight shipping services, we can now explore their associated advantages.
Benefits of Freight Shipping
Freight shipping offers numerous advantages, especially for large packages. It provides cost-efficiency, adaptability, and specialized shipping services.
In choosing a carrier for shipping large and heavy items, considerations such as cost, delivery time, and the carrier's shipping protocols are paramount. Unlike flat rate shipping, where the cost is determined by the size of the box, consolidated freight costs are not affected by the package size.
Moreover, services like ShipBob's 2-Day Express Shipping Program provide an economical option for expedited shipping, utilizing ground shipping services.
Factors Affecting Shipping Costs
Several factors can influence shipping costs for large packages, including:
Package dimensions
Package mass
Destination
Any extra services needed, such as international shipping
Generally, larger and heavier packages incur higher shipping costs. Express shipping or special handling may also increase shipping costs.
Additionally, the density of your shipment plays a significant role in cost determination. Lower freight classes with increased density lead to more economical shipping rates, while higher freight classes with decreased density spike the costs.
We'll examine two significant contributors to shipping costs – dimensional weight and distance/destination.
Dimensional Weight
Dimensional weight is a concept that relates to the density or volumetric mass of a package, which is used to calculate the cost of transporting the goods. It can be calculated using the formula: Dimensional weight = (Length x Width x Height)/ divisor.
Packages that take up a larger volume in transit will result in a higher cost of shipping. Understanding dimensional weight can help you choose the right packaging to minimize shipping costs and ensure that your package is transported safely and efficiently.
Distance and Destination
Shipping costs are directly proportional to distance and destination. As the distance between the origin and destination of the package increases, so do the shipping costs. If a carrier is restricted to shipping in specific areas, they may need to contact a local shipping service provider to complete the shipment, and additional fees may be incurred.
Understanding how distance and destination influence shipping costs allows for more strategic planning and cost optimisation.
Comparing Top Shipping Carriers
When it comes to shipping large packages, several carriers can cater to your needs, such as USPS, DHL, and FedEx. However, the cheapest way to ship large packages may vary depending on the package size, weight, and destination. For heavy boxes, UPS is typically the most cost-effective option, although USPS Parcel Select may be slightly more affordable.
We'll delve into detailed analysis of each top shipping carrier, comparing their pricing options and services for shipping large packages.
USPS
USPS offers several shipping services for large packages, with a maximum carton size of 20" x 14" x 10". For large boxes, USPS provides two sizes of flat rate shipping options, costing $21.50.
The final shipping cost for large boxes shipped with USPS using variable pricing is influenced by the size and weight of the package, as well as the speed and distance of travel.
The United States Postal Service (USPS) also offers Media Mail for shipping bulky media materials like books, CDs, and DVDs at lower rates. Media Mail is a suitable option for shipping bulky media, but if USPS inspects a Media Mail package and discovers inadequate postage, the package will be sent back to the sender.
FedEx
FedEx is another popular carrier for shipping large packages, including oversized packages and heavy items. FedEx Ground is a suitable shipping option when packages exceed the size and/or weight restrictions set by USPS for their flat rate option. For shipping pallets of heavy packages, FedEx Freight is the designated service.
FedEx ground shipping has a maximum weight limit of 250 pounds. The length can be no longer than 108 inches. FedEx charges $92.10 for a 50-pound box, while UPS charges $75.96 for the same. FedEx's flat rate pricing option for less-than-truckload (LTL) shipments up to 1,200 lbs ranges from $141 to $349 per box, depending on the distance and speed of transit.
FedEx delivery times vary; typically one to seven days depending on the destination, quantity, and shipping method. Factors like location and carrier can affect the delivery time.
UPS
UPS is a competitive option for shipping large packages, offering services such as UPS Ground and UPS Freight. UPS Ground is a cost-effective solution for shipping large packages, whereas UPS Freight provides more specialized delivery options for larger packages.
UPS generally emerges as a more cost-effective option for shipping large packages when compared to FedEx. Taking into account the services and pricing options of each carrier is key to finding the best fit for your shipping requirements.
DHL
DHL, a global shipping provider, offers the following services:
International and expedited shipping of large packages
Specialized cargo handling for valuable shipments
Temperature-controlled environments
Day-definite international shipments
DHL can be an excellent choice for shipping large packages internationally or when expedited shipping is required.
Tips for Cost-Effective Shipping of Large Packages
Having delved into the top carriers and their services, we can now share some practical tips for cost reduction when you need to ship packages, especially large packages.
Employing heavy-duty packaging can protect packages during transit through the supply chain. For larger and heavier shipments, splitting them into multiple parts may be a beneficial option.
For shipping heavy items, securing them to a pallet helps increase stability. Implementing these strategies could lead to minimized shipping costs and safe, efficient delivery of your large packages.
Packaging Best Practices
Selecting the right packaging materials and techniques is crucial for minimizing shipping costs. Using corrugated cardboard or bubble wrap can help ensure that items remain stationary during transit. It's also recommended to use new boxes with no holes or tears for maximum protection.
Ample padding materials like foam, air pillows, or crumpled paper can provide sufficient protection and cushioning for your package. If there are openings that reveal the contents of the package, it's advisable to cover them with clear plastic.
Conforming to these packaging best practices can lower shipping costs and guarantee the safe arrival of your items.
Carrier Negotiation
Negotiating with carriers can lead to reduced shipping expenses, faster transit times, and enhanced customer service. When negotiating, it's important to be prepared, demonstrate flexibility, and express a commitment to a long-term relationship.
Strategies for negotiating with carriers may include offering volume discounts, negotiating for better rates, and taking advantage of promotional offers. By engaging in negotiations with carriers, you can secure better shipping rates and discounts, ultimately saving on shipping costs.
Consolidating Shipments
Consolidating shipments involves combining multiple smaller shipments into one larger shipment to minimize transport costs and facilitate the shipping process. This can be done by engaging a freight broker or utilizing a route planning tool to identify the most cost-effective shipping method for the packages.
Consolidation of shipments requires thoughtful consideration of the packages' size and weight, along with the shipment's distance and destination. It's also vital to use the most appropriate packaging practices to ensure safe and secure transit.
Utilizing Freight Brokers and Route Planning Tools
Collaboration with freight brokers and adoption of route planning tools can streamline shipping processes and secure the most favorable shipping rates. Freight brokers act as intermediaries between a shipper and a carrier, helping to identify dependable freight companies with cost-effective rates.
Route planning tools, such as Route4Me and Circuit for Teams, can help automate scheduling, dispatching, and monitoring of delivery operations. By utilizing these resources, you can reduce the complexities of managing delivery operations, optimize delivery times, and provide cost-effective delivery of large packages.
Freight Brokers
Freight brokers, serving as intermediaries between customers and authorized shipping carriers, can assist in securing the most favorable shipping rates and simplifying the shipping process for freight shippers. They typically offer competitive rates due to their well-established connections with carriers and provide more personalized customer service.
Prominent freight brokers include FreightPros, Redhawk Logistics and Echo Global Logistics. All three of these businesses offer competitive rates for freight transportation services. Enlisting a freight broker can be a valuable resource for finding the most cost-effective shipping options for your large packages.
Route Planning Tools
Route planning tools such as Route4Me and Circuit for Teams aid in refining delivery operations, resulting in time and cost savings. Route4Me offers multi-stop route optimization, customer alerts and notifications, and integrations with third-party services like Shopify.
Circuit for Teams is another routing software solution that can streamline your shipping processes. By implementing these tools, you can automate scheduling, dispatching, and monitoring of your delivery operations, ultimately reducing shipping costs and improving overall efficiency.
Case Studies: Successful Strategies for Shipping Large Packages
Many businesses have successfully implemented cost-effective strategies for shipping large packages. For example, Amazon, Walmart, and Target have all effectively optimized their shipping processes to minimize costs while maintaining customer satisfaction. These companies have employed strategies such as:
Comparison-shopping for providers
Utilizing LTL freight carriers
Ensuring adequate packing of large boxes
Examining the feasibility of using USPS Priority Mail
Drawing lessons from their success, you can replicate similar strategies to refine your shipping processes and cut down costs.
Summary
In conclusion, shipping large packages doesn't have to be a daunting task. By understanding freight shipping, comparing top carriers, and employing cost-effective strategies, you can minimize shipping costs and ensure your packages arrive safely and efficiently. Don't forget to utilize resources like freight brokers and route planning tools to further optimize your shipping processes. With the right knowledge and tools in hand, you'll be well-equipped to tackle the challenges of shipping large packages in 2023 and beyond.
Frequently Asked Questions
What is the least expensive way to ship a large package?
USPS is typically the cheapest option for packages under 70 lbs, while consolidated freight is one of the most cost-effective shipping methods for packages over 70 lbs.
Is UPS or USPS cheaper to ship large boxes?
Overall, USPS is typically cheaper for large boxes, although UPS may be the better option for heavier items.
How much does it cost to ship a 70 lb box?
Shipping a 70 lb box can cost anywhere from $75 to $99, depending on the carrier you choose.
Different carriers offer different rates, so it's important to compare prices before making a decision. Some carriers may offer discounts for bulk orders, so it's worth looking into if you're shipping multiple boxes.
What are the primary freight shipping methods available?
The primary freight shipping methods available are less-than-truckload (LTL), full truckload (FTL) and expedited shipping.
Each of these methods has its own advantages and disadvantages. LTL is the most cost-effective option for smaller shipments, while FTL is the best choice for larger shipments. Expedited shipping is the fastest option, but it is also the fastest option.
How does dimensional weight impact shipping costs?
Shipping costs are impacted by dimensional weight, meaning packages that take up more space will incur higher shipping costs.