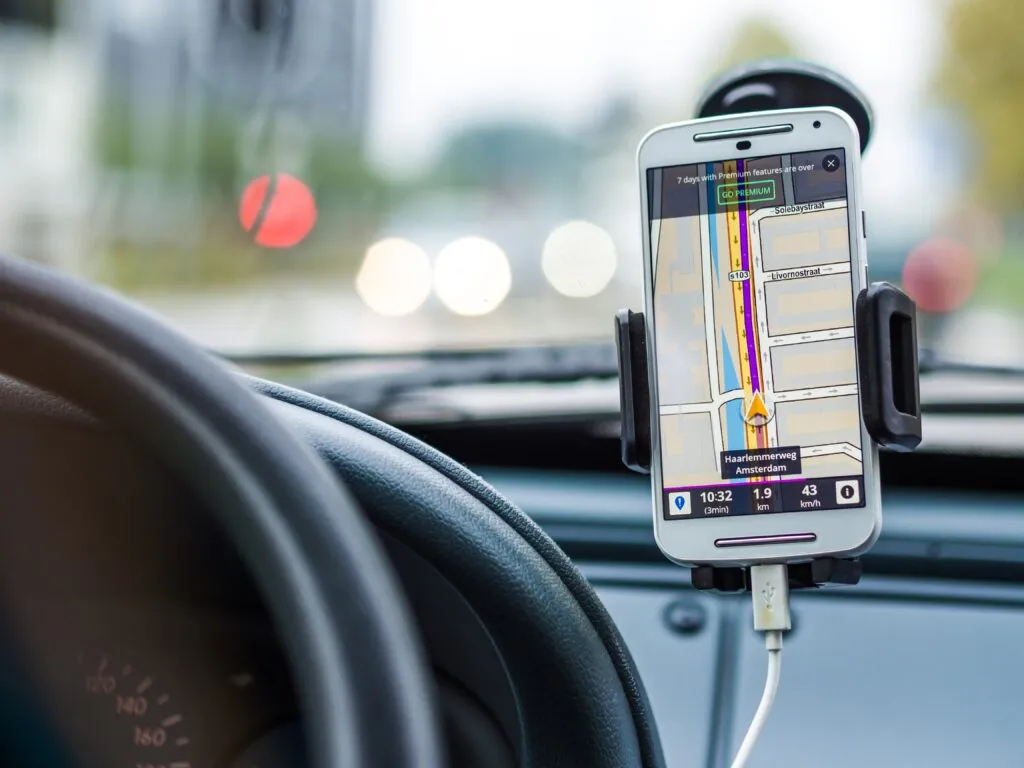 Get home early with RoadWarrior.
Enter your stops, optimize your routes, manage your team – quickly and efficiently.
Try RoadWarrior free for 7 days
Try free for 7 days
By 2023, the best commercial truck GPS Apps will include a wide range of additional capabilities. In addition, you would look at specialized vehicle navigation solutions which are designed with complex systems that meet all truck route requirements.
When planning a route with multiple points of interest, the order of stops can play a key role in efficiency. A reliable truck GPS app will take your stops and rearrange the order of stops to create a truck route that requires less drive time, less fuel cost and less operating costs.
What Types of Commercial Vehicles Should Use Truck GPS Apps?
Commercial vehicles range across a variety of sizes and shapes – from trailers, semi trailers, and buses, through buses, and even taxis. Although there may be minor differences between state to country, all automobiles registered by an entity are considered commercial vehicles.
According to the broad classifications, not every commercial vehicle is restricted to roads. Normally a car can also be a commercial automobile. Aside from a business-associated classification requirement, a motor vehicle that weighs more than 26,001 pounds will be a commercial vehicle.
We'll cover a variety of truck gps apps and other gps apps that cover other commercial vehicles so you can make an informed decision on what is the right truck gps app for your needs:
Google Maps
SmartTruckRoute
Sygic Truck & Caravan Navigation
PTV Navigator
TruckMap
Trucker Path
RoadWarrior Route Planner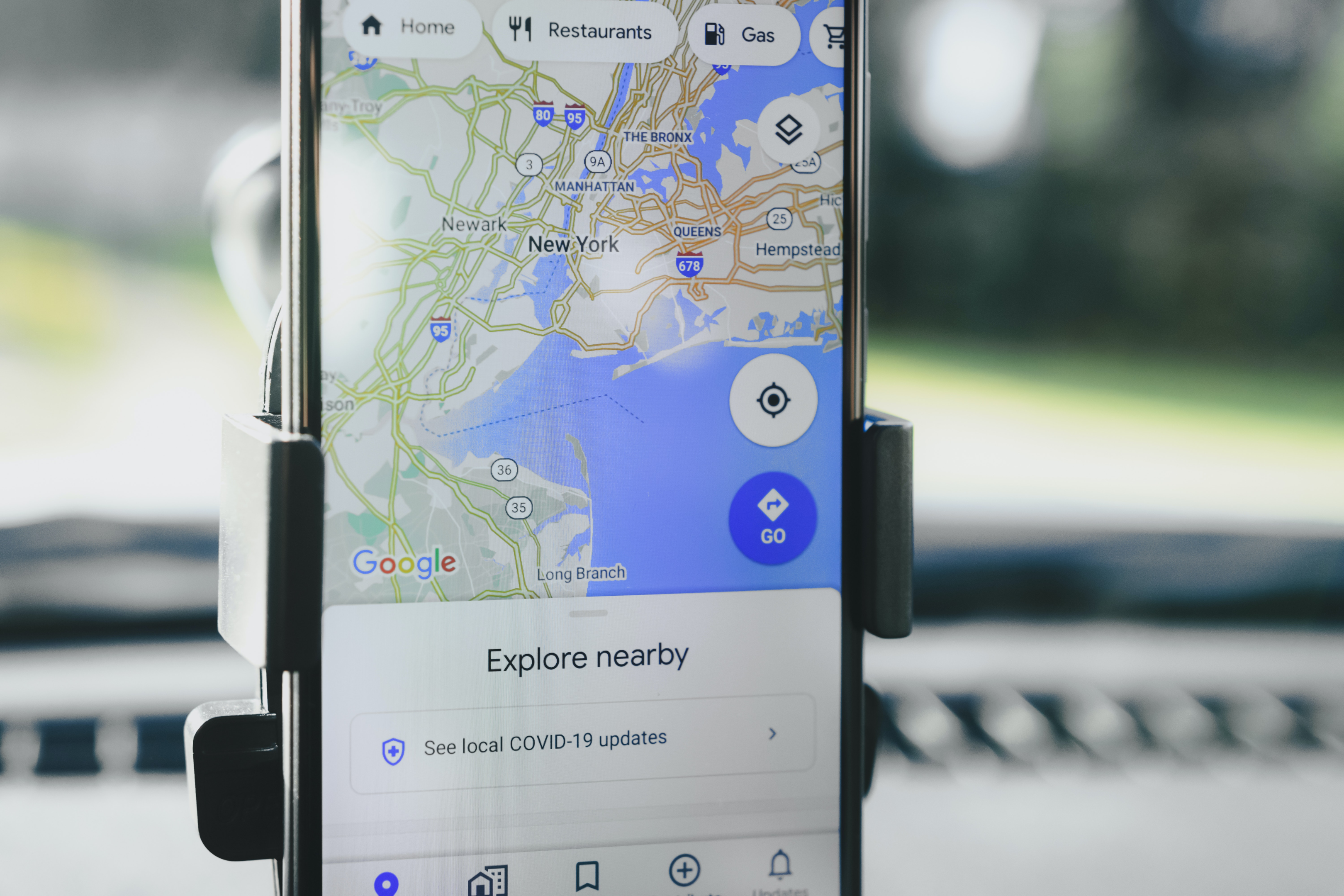 Can You Use Google Maps for Commercial Truck GPS?
Google Maps is a free online navigation app which helps plan trips with up to 10 stops. The main difference between Google Maps and truck gps apps is that Google Maps does not specifically have truck drivers in mind. For example, a truck driver would need at least 20 stops along their route and may want to see truck stops or weigh stations along the way.
While Google Maps has some great features that could be beneficial for truck drivers such as directing the driver to fuel stations, live traffic and lifetime map updates, lane guidance and route planning, Google Maps is more suited for personal use than for commercial truck drivers.
Google's routing system does not optimize destination sequence so route planning is not efficient. It's best used to guide the driver from their starting point to their destination and adding other points of interest along the way, if necessary.

SmartTruckRoute Truck GPS App
SmartTruckRoute is a trucking gps app that supports iPhone, Android and other smart devices. This gps system allows truck drivers to create truck routes with free map updates. This mobile app aims to improve driving performance by offering turn-by-turn driving directions, a built- in odometer, live maps updates and more.
SmartTruckRoute has the truck driver in mind because in addition to customizing vehicle specs and truck routes to reflect the size and weight limits of the vehicle, the app also has satellite images so drivers know ahead of time how to prepare for the truck entrance at their destination.
Other special features include avoiding low bridges, identifying weigh scales or weigh stations, the nearest truck stops, rest areas and gas stations to make your route as seamless as possible. For information on Smart TruckRoute truck GPS Apps, visit their site or Google Play or app store profiles.

Sygic Truck GPS Navigation
Sygic Truck GPS Navigation is a free trucking gps app that can be used not only by truck drivers, but also professional drivers who drive large sized commercial vehicles. They aim to replace regular gps devices and gps units. Sygic Truck Navigation App is designed for trucks, RV, buses, coaches and vans so it can create an actual route based on your vehicle's specifications.
In addition to clear voice instruction, this mobile app has dynamic lane assistance by guiding drivers into the correct lane and highlighting the route at junctions. It provides route planning without tolls and sharp curves for safe driving as well as displaying the speed limits and alerts when the speed limit is exceeded. A detailed list of GPS navigation and features on Sygica Trucks can be found on its website and on Google Play.

PTV Navigator – Professional Navigation for Truck Routes
PTV Navigator provides custom truck routing for truck drivers, keeping in mind of truck restricted roads, truck friendly parking, gas stations, etc. The app is powered by TomTom gps navigation and monitors live traffic so users can plan truck routes that avoid traffic jams.
PTV Navigator also lets truck drivers avoid toll roads, residential areas, low emission zones and considers truck restrictions while they travel through the country as well as finding truck stops to ensure safe driving. At the moment it is available only on Android, but you can find more info at their website or the Google Play Store.

TruckMap – Truck GPS Routes
TruckMap is a free truck GPS app available on iPhone and Android. Like most truck gps apps, TruckMap has the specialized truck route planning features such as accounting for weight restrictions, avoiding low bridges and toll roads, driving directions based on real-time traffic and points of interest like weigh stations, but what makes TruckMap unique is its community of truck drivers.
Driving for long distances can be taxing and having support can go a long way. With TruckMap, other drivers within their community are constantly providing updates like truck parking availability, if a weigh station is open or closed and even comprehensive shipping facility reviews to keep you moving smoothly along your route with minimal delays.
In addition to the community of drivers and the truck navigation app features, TruckMap also has a marketplace with over 1.4 million drivers to book more jobs. TruckMap isn't just truck gps and for the truck driver, it's also for shippers and brokers to work together and help run their businesses more efficiently.

Trucker Path App for Truck Drivers
Trucker Path is a popular navigation software for truck routing. It provides drivers with easy-to-use information about stops at the road, weigh stations, fuel stops and parking availability.
Similar to TruckMap, Trucker Path is more than a truck gps app providing directions and optimizing routes. Trucker Path has different services that can appeal to the business owner and help with logistics and planning.
TruckLoads by Trucker Path
They have their version of a marketplace called TruckLoads that helps carriers and owner operators link up together to move freight via the mobile app or the web portal.
Carriers can easily find loads that TruckLoads has aggregated from brokers and shippers while brokers can post loads and find qualified carriers to transport freight with confidence.
Trucker Path COMMAND
If you're a trucking fleet company, Trucker Path COMMAND is the enterprise edition of the Trucker Path app that enables your team to have truck dispatching and navigation. It comes with everything Trucker Path offers, but offers team communication and check-ins.
Trucker Path DISPATCH
If you don't have an entire fleet, but still want the benefits of having a dispatcher, Trucker Path has their own dispatchers for you to use with Trucker Path DISPATCH.
They handle all of the office-related work so drivers can concentrate on driving and generating more revenue. Dispatchers will find loads for you, negotiate rates and send all the information to your mobile app so you can hit the road.

RoadWarrior Route Planner
Road Warrior is a mobile app that helps you plan and optimize your routes for multiple stops. It allows you to input all your stops in one go and then optimizes your route to save time, fuel, and money. You can also customize your route based on your preferences, such as avoiding toll roads, highways, or specific areas.
In addition to the mobile app, Road Warrior also offers a web portal for dispatchers. The portal allows dispatchers to create and assign routes to their drivers, and to monitor their progress in real-time. Dispatchers can also communicate with their drivers directly through the portal, and make changes to their routes if necessary.

The app provides turn-by-turn directions for each stop, as well as estimated travel times and distances. It also lets you view your entire route on a map, so you can see where you're going and how long it will take you to get there.
Road Warrior is useful for anyone who needs to plan and optimize their routes, such as delivery drivers, salespeople, and field technicians. It can save you time, reduce your fuel costs, and improve your overall efficiency.

The app is available for download on both iOS and Android devices, and it offers a free trial for new users. After the trial period, you can choose to subscribe to one of their pricing plans, which offer various features and benefits depending on your needs.
Overall, Road Warrior is a great tool for anyone who needs to plan and optimize their routes and wants to save time and money in the process. The web portal for dispatchers is an added bonus that makes it even more useful for businesses that need to manage multiple drivers and routes.

Summary
In conclusion, the year 2023 is expected to bring significant advancements in the capabilities of commercial truck GPS apps. Trucking companies and individual truck drivers alike are advised to choose specialized vehicle navigation solutions designed to meet all truck route requirements. The best truck GPS apps will not only provide accurate turn-by-turn driving directions but also optimize the order of stops to reduce drive time, fuel cost and operating costs.
Among the various truck GPS apps available in the market, some of the top choices for commercial vehicles include SmartTruckRoute, Sygic Truck GPS Navigation, PTV Navigator, TruckMap, Trucker Path, and RoadWarrior Route Planner. While Google Maps remains a popular navigation app for personal use, it may not be the most efficient option for commercial truck drivers.
Ultimately, choosing the right truck GPS app will depend on a truck driver's specific needs, including the type of commercial vehicle they drive, the routes they typically take, and the additional features they require. By carefully considering these factors and doing some research on available options, truck drivers can make informed decisions and maximize the benefits of a reliable truck GPS app.