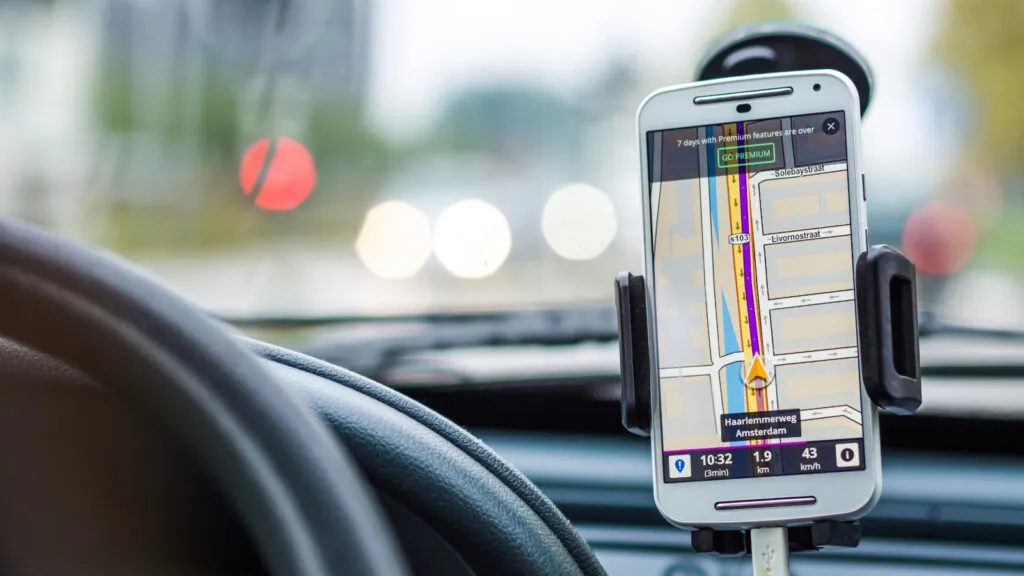 Get home early with RoadWarrior.
Enter your stops, optimize your routes, manage your team – quickly and efficiently.
Try RoadWarrior free for 7 days
Try free for 7 days
Route planner apps help drivers complete multi-stop deliveries more efficiently by determining the fastest routes based on location and traffic.
When choosing route optimization software, consider the number of stops you typically make and whether you need additional features such as proof of delivery.
Some apps enable you to add preferences such as delivery windows and round trips.
When you have multiple deliveries to make, a poorly planned route consumes time by taking you onto congested roads or causing unnecessary backtracking. A route planner app is an essential tool for drivers, plotting the order you should tackle your deliveries based on location, traffic and other factors.
Read on for tips on choosing the best route planner app for your needs and the key features that can save you time and stress.
What Is a Route Planner App for Delivery Drivers?
A route planner app is software that uses mapping data and algorithms to help manage multi-stop deliveries. Most apps can be installed on your smartphone, although some are web-based only. To use the app, simply plug in the addresses of all your deliveries for the day. The platform uses information about traffic patterns to find the most efficient sequence of destinations.
It's time-consuming to look up unfamiliar addresses and manually plot your route. It also takes a certain amount of guesswork. Delivery and courier routing apps can generate routes in an instant and help you avoid delays caused by backtracking, congestion, construction, detours and weather. Route optimization software improves productivity, saves fuel costs and boosts customer satisfaction because deliveries are on time.
There are many route planner apps on the market. Some are ideal for individual drivers, while others offer functionality to manage teams of drivers. You can choose from free and paid versions depending on the features you want.
Features to Look for in a Route Planner App
The basic selling feature of all delivery driver route planner apps is route optimization. Your destinations are plotted in the order that's most efficient. Some apps provide some customization of routes, taking into account delivery timelines so customers receive their parcels in the windows they're needed. You may also be able to specify driving preferences such as routes that avoid tolls or highways.
More robust apps provide delivery management, including:
Automated alerts that let customers know when a package is out for delivery
Proof of delivery, such as signatures and photos
Driver tracking that shows customers and dispatchers where a driver is
Parcel management to help drivers quickly locate packages in their vehicles
8 Best Route Planner Apps for Delivery Drivers
Depending on your needs, you may find a free route planner app has enough features to manage your deliveries. You're limited in the number of stops you can add to your route with free versions, so you'll likely need to pay a monthly fee if you have more than 10 or 20 deliveries. Some apps offer discounts for annual subscriptions.
Here are some questions to consider as you explore your route planner options:
How many delivery stops can you input?
What preferences can you select when determining your route?
Is there flexibility for priority deliveries?
Does the app adjust your route if you add or remove destinations while on the road?
Is there a demo or free trial?
What delivery management features do you need?
To get you started, we've compiled a list of eight route planner apps with different levels of functionality. We've outlined key features, pros, cons and pricing. The apps are listed randomly and not ranked in any order, as the best route planner app depends on your unique needs and budget.
1. RoadWarrior
Powered by a proprietary algorithm, RoadWarrior makes delivering goods easy by taking into account hundreds of variables when optimizing delivery routes, including priority packages, traffic patterns, school zones and business availability. You can customize routes to avoid toll booths and highways, or choose one-way and round trips depending where you want to finish the day.
This platform can be paired with a navigation app so you can download your optimized route for offline use. Features such as uploading and reporting are available with the paid version. RoadWarrior Flex supports teams of drivers, connecting to FedEx and OnTrac so you can import daily manifests.
Key Features:
Optimizes routes based on package priority, traffic and other factors
Planned routes can be used while offline
Option to upgrade and support fleets with multiple drivers
Ability to import manifests from FedEx and OnTrac
Pros:
Dynamic route optimization feature
Uses multiple independent cloud-based servers for reliability
Strict privacy policy in place
Cons:
Free version provides routing for only 8 stops
No proof of delivery option
Pricing:
Free version supports 8 stops per route, with 50 optimized stops per day
$10 per month for Road Warrior Pro (120 stops)
$10 per month for Road Warrior Flex for teams, plus an additional $10 per month per driver
2. Circuit Route Planner
To make your job easier, Circuit Route Planner determines the most efficient route based on the location of your stops while also taking into account delivery windows. You can add or delete destinations as you go and continue with a newly optimized route.
Addresses can be entered manually or uploaded from a CSV file to an Android phone. A nice bonus is the package finding function, which enables you to note where in your vehicle parcels are placed so you can find them quickly when unloading.
Circuit for Teams supports multiple drivers and offers additional features such as delivery validation, customer notifications and driver tracking.
Key Features
Upload addresses via CSV on Android phones
Package finding function helps you unload delivery quickly
Option to support fleets with multiple drivers
Pros:
Reoptimizes route based on changes
Works with Google Maps and other navigation apps
Provides hands-free voice entry
Cons:
CSV files can't be uploaded to the app on an iPhone
Routes can't be manually changed
Pricing:
Free version provides unlimited routes for up to 10 stops per route
$20 per month for unlimited stops and routes
Circuit for Teams plans start at $100 per month for three drivers
3. MyWay Route Planner
MyWay is powered by the most up-to-date location, traffic and driving condition data from Google Maps, OpenStreetMap, Here and Mapbox. Like other apps, you can optimize your journey based on delivery windows and priority levels. MyWay also tailors routes based on your mode of transportation — car, bicycle, truck, motorcycle or foot — making it an excellent courier route planning app and cutting down on a lot of guesswork. It's also one of the most affordable paid plans, costing less than $6 per month if you commit to an annual subscription. MyWay is available for iOS, but Android users will have to choose an alternate route planner app for now.
Key Features
Optimize routes based on priority deliveries
Adjust your routes based on your mode of transportation
Attractively priced at $6 per month on annual subscriptions
Pros:
Proof of delivery feature
Compatible with navigation apps such as Google Maps, Apple Maps and Waze
Con: Not yet available in the Google Play Store
Pricing:
Free version supports unlimited routes and up to 20 stops
Paid version is $9.99 per month or $69.99 per year for up to 200 stops
Free 7-day trial
Save 40% off monthly fees with an annual subscription plan
4. MapQuest Route Planner
MapQuest Route Planner is the best free route planner app for those who require only basic features. To help you make deliveries easier and faster, input up to 26 delivery stops before you hit the road, either manually or by uploading an XLS or CSV file containing the addresses. MapQuest then plans your route based on the fastest time or shortest distance (your choice), taking into account route preferences such as avoiding tolls or highways.
MapQuest doesn't offer advanced features delivery professionals might want, such as automated notifications for customers or proof of delivery. However, it may do the trick if you're simply looking for an optimized route to make your day more efficient.
Key Features:
Up to 26 delivery stops can be entered
The ability to upload addresses en masse via XLS or CSV
Automatic route mapping based on your choice of fastest time or shortest distance
Pros:
Easy to use
Can plan a round trip
Set your own route or allow the route planner to reorder your stops
Ability to share the route to MapQuest app on iOS or Android
Cons:
Limited to 26 stops
No driver tracking, proof of delivery or ability to communicate with customer
Pricing: Free
5. Straightaway
Straightaway is one of the best free route planner apps when it comes to adding destinations. Cut down on the time needed to add addresses by simply using your camera to scan addresses from a manifest, shipping label or spreadsheet. The image recognition technology automatically adds the stops to your route. Straightaway uses 130 data sources such as traffic, weather and road conditions to build time-saving delivery itineraries.
The app also comes with built-in navigation, saving you from pairing to a third-party app and switching between platforms. The turn-by-turn instructions keep you on track so you can confidently arrive at your destination. The app has access to live traffic updates, redirecting you as conditions change.
Key Features:
Built-in navigation and real-time traffic updates
Image recognition technology makes adding stops to your route simple and fast
Pros:
Simple interface
Image recognition technology for fast address entry
In-app navigation
Cons: Doesn't provide delivery-specific features such as customer alerts and proof of delivery
Pricing:
Free for up to 25 stops
$9.99 per month for up to 250 stops ($7.99 per month with annual subscription)
7-day free trial
6. Route XL
Route XL is a web-based, multi-stop route planner. To get started, enter the addresses for your deliveries manually or paste bulk addresses from a spreadsheet or other application. Once you've added your destinations, Route XL sorts the addresses to provide you with the fastest route. You can export the route to a navigation app or email a link to access later.
Because Route XL isn't available as a smartphone app, this platform is ideal for small businesses or entrepreneurs who want to organize occasional bulk deliveries on a desktop computer and then assign the route to a driver.
Key Features:
Automatic sorting of addresses to optimize routes
Great option for office workers in charge of logistical coordination
Pros: Daily rate available
Cons:
Web-based only
Interface is clunky
Pricing:
Free for 20 stops
Priced in euros
Approximately $5 USD per day or $35 USD per month for 100 stops, and $10 USD per day or $70 USD per month for 200 stops
7. Zeo
Zeo packs a lot of features that help make deliveries faster, from route optimization to delivery validation. When you download the app, you get the premium features free for one week.
Similar to other platforms, Zeo enables you to specify delivery windows to ensure you deliver on time. You can also improve route accuracy by inputting estimated unloading times at each destination.
This app is compatible with many navigation systems, including Google Maps, Apple Maps, Waze, Yandex, Here We Go, TomTom Go and Sygic Maps.
Key Features:
Calculate estimated unloading times to increase routing accuracy
Great compatibility with navigation apps
One week of premium features for free allow you to try out Zeo with no risk
Pros:
Import locations through spreadsheets, bar codes, image recognition, pin drops and voice
Reoptimizes route when stops are added or deleted
Real-time updates for customers and proof of delivery options
Cons:
Collects data that tracks and is linked to the user, according to privacy disclosures on the Apple app store
Other route planners are available that don't collect data.
Pricing:
Free for up to 15 stops
$15 per month for up to 2,000 stops
8. SmartRoutes
SmartRoutes is one of the more expensive route planners for delivery professionals compared to other apps we've highlighted. Only paid versions are available, but SmartRoutes does offer an array of features to make multi-stop deliveries easier for small businesses.
The app is designed with a simple, intuitive interface. With the standard plan, you can import address files and indicate any stops with delivery windows to avoid missed deadlines. Users who need fleet tracking, proof of delivery and customer notifications can upgrade to the premium plan. The software integrates with Shopify or WooCommerce to help with order fulfillment.
Key Features:
Ability to indicate delivery windows
Fleet tracking to help manage multiple drivers
Proof of delivery and customer notifications available
Pros:
Easy-to-use interface
Notifications and tracking portal for customers (premium plan)
E-commerce integrations
Cons:
No free version available
Pricing:
Standard plan is $32 per month per vehicle
Premium plan is $54 per month per vehicle
7 day free trials available
Making the Most of Route Planner Apps
A successful day on the road begins before you even get behind the wheel. With a little planning and help from route optimization technology, you can boost productivity and make your deliveries faster.
You'll find many alternatives on the market, whether you're looking for the best route planner app for iPhone or Android. Consider the size of your route and how often you'll use the app. You may need more sophisticated software if you're making deliveries five days a week as compared to a few nights a month.
Read through the information on each app's website, and check out reviews in the app stores. You can also make use of free trials before upgrading to paid subscriptions.
Customers expect deliveries quickly and on time. A powerful route planner app can help you make your stops with minimal stress and hassle while saving you time, money and fuel.