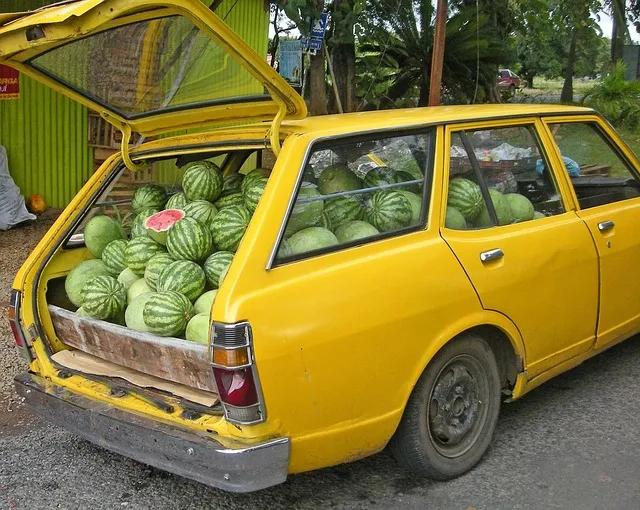 Get home early with RoadWarrior.
Enter your stops, optimize your routes, manage your team – quickly and efficiently.
Try RoadWarrior free for 7 days
Try free for 7 days
The best car for delivery drivers combine practicality, fuel efficiency, cargo space, and comfort. In this comprehensive guide, we will explore the top car options for delivery drivers, taking into account their pros and cons, key features, and suitability for different delivery needs. Delivery drivers play a crucial role in ensuring that goods and services reach their intended destinations in a timely and efficient manner. Whether you're a business owner looking to optimize your delivery fleet or an individual embarking on a new career as a delivery driver, choosing the right car is essential.
1. Toyota Prius: The Fuel-Efficient Workhorse
The Toyota Prius, renowned for its excellent fuel economy, takes the top spot on our list of the best cars for delivery drivers. With its hybrid powertrain, the Prius offers exceptional mileage, making it an ideal choice for those looking to save on fuel costs. The Prius also comes equipped with the Safety Sense Suite, ensuring a safe and secure driving experience. One of its standout features is the ability to maximize cargo trunk space by folding the rear seats, providing ample room for deliveries of all sizes. However, it's important to note that the Prius may have a stiff ride quality and lower-quality interior materials, which could impact driver comfort.
2. Cargo Vans: Ideal for Space-Conscious Drivers
For delivery drivers operating in densely populated areas or requiring significant cargo capacity, cargo vans are an excellent option. Compact cargo vans like the Ford Transit Connect offer the advantage of maneuverability in tight spaces, making them ideal for navigating busy city streets. The side and rear doors of cargo vans allow for easy access to large and medium-sized parcels, streamlining the delivery process. However, it's worth considering that cargo vans generally have lower fuel economy and may be more challenging to park compared to smaller vehicles.
3. Hyundai Sonata Hybrid: Efficiency and Elegance
The Hyundai Sonata Hybrid combines fuel efficiency, a spacious trunk, and an eye-catching exterior design, making it an attractive choice for delivery drivers. With its hybrid powertrain, the Sonata Hybrid offers significant fuel savings and lower carbon emissions. The vehicle's low maintenance costs further contribute to its appeal. While the Sonata Hybrid doesn't offer all-wheel drive or electric car capabilities, it presents a practical option for drivers who cover long distances on a daily basis.
4. Volkswagen Golf & Jetta Sportswagen – Diesels: A Value Proposition
Despite the setback caused by the diesel scandal in 2015, Volkswagen Golf and Jetta Sportswagen diesel models still offer value for delivery drivers in the used car market. These vehicles provide excellent highway fuel economy and affordability compared to traditional gas cars. The Golf and Jetta Sportswagen also offer a smooth and comfortable ride, making them reliable options for long-distance deliveries. However, it's important to note that they lack an all-wheel-drive system and hybrid powertrain.
5. Chevrolet Bolt EV: The Electric Option
If you're looking for an all-electric option with ample cargo space, the Chevrolet Bolt EV is worth considering. With its large cargo capacity and the ability to travel up to 240 miles on a single charge, the Bolt EV offers convenience and efficiency. The inclusion of a button for one-pedal driving enhances the overall driving experience. However, it's essential to consider that the Bolt EV may have limited cargo capacity compared to larger vehicles.
6. Honda Accord: Comfort and Reliability
The Honda Accord, known for its comfortable and spacious cabin, advanced technology features, and turbocharged power, is a dependable option for delivery drivers. With the Honda Sensing feature and a large trunk space, the Accord offers both safety and practicality. However, accessing the trunk may be challenging due to its low ride height, and the Accord is not particularly suitable for winter driving conditions.
7. Light-Duty Vehicles: The Versatile Workhorses
Light-duty vehicles, such as trucks or SUVs, offer a range of benefits for delivery drivers. With good fuel economy and longer truck beds, these vehicles provide an efficient and comfortable driving experience. Light-duty vehicles are easy to operate and offer ample space for both cargo and passengers. However, it's important to consider that they may not be designed for heavy loads and may not have the same durability as larger commercial vehicles.
Things to Consider When Buying Delivery Cars
When selecting a car for delivery purposes, there are several factors to consider. Here are some key considerations to keep in mind:
High Fuel Efficiency
Opt for a car with good gas mileage to save money on fuel costs. Cars with excellent fuel efficiency not only benefit your wallet but also contribute to a greener environment.
Overall Functionality
Ensure that the car you choose aligns with your specific delivery needs. Consider factors such as cargo space, ease of use, and maneuverability in tight spaces.
Backup Camera
A backup camera is a valuable feature for delivery drivers, especially when parallel parking or maneuvering in tight spaces. It provides an extra layer of safety and convenience.
Seats
Consider the type of seats that best suit your needs. Leather seats are easier to clean, but they can become uncomfortably hot or cold depending on the weather. Heated seats are a great option for colder climates.
Remote Start
In cold weather, a remote start feature allows you to warm up your car before you get in, ensuring a cozy and comfortable ride. It's a convenient feature that can enhance your overall driving experience.
Navigation System
An in-car navigation system eliminates the need for external GPS devices or relying on smartphone applications. It provides real-time directions, making your deliveries more efficient and stress-free, but the downside is that with delivery-specific route planner apps, you can add multiple stops and have your route optimized to prevent backtracking and unnecessary traffic based on real-time traffic updates.
Blind-Spot Monitoring
Blind-spot monitoring systems use sensors to detect vehicles in adjacent lanes, providing audio or visual warnings to the driver. This feature enhances safety and reduces the risk of accidents.
Delivery Apps Car Requirements
If you plan to work as a delivery driver for a specific delivery app such as Postmates or Amazon Flex, be sure to check their car requirements. Most apps require vehicles to have a vehicle inspection form, vehicle registration, and personal vehicle insurance. Additionally, the car model should typically be 2004 or newer and have four doors with seating for 5-8 people.
Why Choosing the Best Car Is Important
Choosing the best car for your delivery business is crucial for ensuring efficient deliveries, safe driving, and overall reliability. The right delivery vehicle should meet all your needs, including fuel efficiency, cargo space, and comfort. While a brand-new car may not be necessary, carefully inspecting and selecting a used car can provide a reliable and cost-effective solution.
FAQs
Q: Can you use a rented car for delivery?
A: Yes, certain third-party delivery apps allow the use of rented cars for package delivery. This can be a more affordable option for business owners starting an online delivery business.
Q: Do delivery drivers need to buy a brand-new car?
A: No, delivery drivers do not necessarily need to purchase a brand-new car. Secondhand cars available in the used car market can be reliable vehicles that meet the car requirements of most delivery apps. Used cars offer great mileage, making them suitable for delivery drivers who require a vehicle that can withstand long hours on the road.
Final Verdict
After considering various options, we conclude that light-duty vehicles are the best choice for delivery drivers. Light-duty trucks offer excellent fuel economy, ease of operation, and comfortable driving experiences. They are versatile workhorses that do not require a commercial driving license, making them an ideal substitute for SUVs or cargo vans. Light-duty vehicles provide reliable mileage and high fuel economy, making them a practical and efficient choice for delivery drivers, especially those involved in pizza delivery or similar services.
Remember, choosing the best car for your delivery needs is essential for ensuring a smooth and successful delivery operation. Consider factors such as fuel efficiency, cargo space, and overall functionality when making your decision. By selecting the right car, you can optimize your deliveries, reduce costs, and provide a reliable service to your customers.